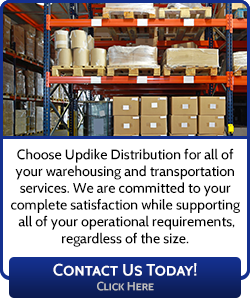 Having the right technology is critical in today's marketplace, and UDL has continually chosen to invest in the latest systems and equipment – and the right people to support it – in order to drive efficiencies, increase accuracy and safety, and ultimately bring more value to our customers. Some examples include:
Our state-of-the-art warehouse management system. Recently implemented, it was built on a RF, Windows-based platform, allowing us the ability to barcode scan every item that flows through our dock doors. Besides providing improved operating tools and real time visibility of inventory, our WMS helps eliminate wasteful actions and enhance the productivity of our warehouse associates.
Our forklift fleet. We utilize new equipment with efficient engines and roll-over prevention systems, and we've retrofitted many of them with specialized attachments to boost productivity.
Our tractors and trailers. Besides running current equipment with fuel-saving technology, we operate with the latest on-board communication and tracking systems. This permits us to communicate hands-free with our driving associates, as well as identify the location of our power units and trailers at all times, making certain both our driving associates and our customers' freight is safe, secure, and accounted for. Additionally, these systems provide advanced metrics to assist us in making the best decisions for our drivers and for your deliveries.
Our Information Technology department. We possess an internal staff of like-minded, forward-thinking IT associates to ensure we meet our customers' specific technology needs quickly, competently and creatively. We are committed to giving you the critical information that you need, when you need it.